QuickBooks Online payroll overview
In this video, you and your clients can review the key features and elements of QuickBooks Online Payroll. Together, you can decide if this solution is the right fit to address your client's payroll needs!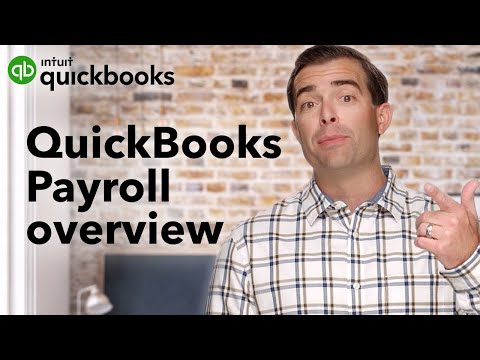 View Transcript
What's up, tax savers? My name is Tyler McBroom, and we are wrapping up a four-part series that I've been working on with QuickBooks, doing a deep dive on payroll and staying compliant, and how it relates to the small business owner. As a small business owner, I know your job is a tough one. Across the board, it's a tough one, but it's especially tough when it comes to deciding on payroll providers, running payroll, and all the messy deadlines. And, hopefully, after the first few videos, it helps clarify all of that information and helps with that decision-making process.

On today's video, we're going to dive into the high level features and elements of QuickBooks Online Payroll, specifically, and why I recommend it to my clients. So, why choose QuickBooks Online Payroll? Well, 1.4 million small businesses use QuickBooks to run payroll and file their taxes. That's actually more than any other provider. Why do so many businesses choose to run payroll with QuickBooks? Well, frankly, they want to be more confident when they pay their team. And, it's packed with features and designed to be easy to use and save you time.

One of those is automatic payroll. So, if you have salaried employees that you pay with direct deposit, payroll runs for them automatically if you want it to. And, time tracking is critical, which we covered before. It has time tracking on the go, or mobile time tracking. We're in a mobile world, so that's more important than ever. If you have hourly employees, you can track and review their hours in real time, right inside QuickBooks. You just have to review and approve the hours before you run the payroll.

It's got same-day direct deposit, a feature that many competitors actually don't even offer. In video number two, we talked about the essential habits that you get into to make sure your business runs and stays compliant. One of those is having a budget and monitoring your cash flow. If you don't have to remit your cash, or give your cash up for direct deposit, until the day you run payroll, it means you can hold on to your cash longer until pay day, and keep control of that money.

It also makes bookkeeping easy. I can't tell you how many clients bring on their books with us when they become a new client, and they use a different payroll provider. They've got their net check as a payroll expense, instead of that gross check before amount. In other words, the expenses are wrong. The books are a total disaster. They can take their best step at creating the journal entries, and it just creates more problems and more issues for the business owner and for the accountant.

And, frankly, all of the above features are important, but what makes bookkeeping easy is what truly sets QuickBooks apart from the other providers. And, if you use QuickBooks for your accounting, then QuickBooks Online Payroll integrates seamlessly, and keeps everything up-to- day automatically. That being said, you don't necessarily need QuickBooks for accounting to use QuickBooks Online Payroll. But, it takes the stress out of payroll taxes. Your Federal and State payroll taxes, including your year-end filings, are calculated, filed, and paid automatically.

It also lets you manage your team and your finances all in one place because it integrates the payroll, taxes, HR, benefits, worker's comp, accounting, and more. These are all those additional services that we covered in the previous video. Plus, you don't have to manually update your accounting records each payday. It's literally inside QuickBooks, so the payroll accounting entries are made for you automatically.

And, it's backed by US-based experts who will review your payroll set up or do it for you. It will help you if you're switching from another provider by ensuring that your data is transferred correctly. And, they're reachable by phone, or by chat, for expert product support. It's available in all 50 states, and it works for a wide variety of business types.

Of course, tax laws vary state by state, but QuickBooks handles it all for you. So, whether it's construction, tech, retail, restaurant, health and beauty care, service industries like accounting and consulting firms, for profit, non-profit entities, QuickBooks Online Payroll helps a huge range of industries. QuickBooks Online Payroll has been great for my plans, which is why I highly recommend it.

So, to be clear, there's no one-size-fits-all solution for payroll across every business everywhere. What I really like about QuickBooks Online Payroll is that you can customize and tailor it to fit your needs, even as your needs change within your business. Some business owners and managers want to keep more control and feel confident doing it themselves, while others want expert guidance to make sure it's done right and just take it off their hands.

Don't just listen to me. I want you to talk to your friends, talk to your colleagues, and talk to your accountant or your bookkeeper, and make sure you understand what decision you're making before you make it. And, then, reach out to QuickBooks to see if their options might be right for you.