What is payroll? An introduction to payroll in 2020
Your clients say they understand payroll, but do they really? Here's a great instructional video to share with your clients that can help them understand what payroll is, why it's important, and the different ways to process it.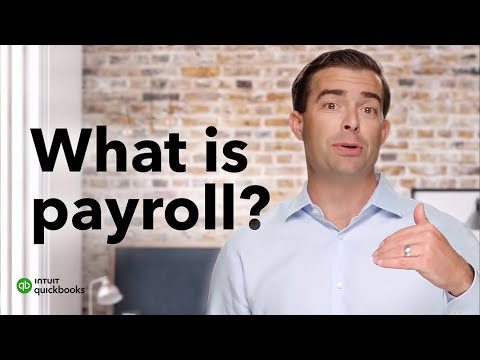 View Transcript
What's up, tax savers? I want to talk with you today about the basics of payroll. This is a huge topic for business owners. In fact, it's so important that QuickBooks actually reached out and asked me to make a couple of videos to help simplify the entire topic of payroll. So, let's get right into it.

For those of you that don't know me, I'm Tyler McBroom. I'm the CEO and managing partner of a firm called Measured Results out in California, where we work with business owners around the country to help them pay as little tax as legally possible, help them know where their numbers are going, and be as profitable as possible. Basically, help them keep as much of their money that they make as possible. And, I'm excited to dive into this important topic today.

What is payroll? So, let's start with that. Essentially, payroll is the total amount of wages that a company pays its employees. Running payroll involves a couple of things. First, you take an employee's gross pay and then you subtract out the federal, state, and local taxes, and then, of course, any withholdings or other potential deductions. Whereas an independent contractor, you just literally cut them a check and then you issue them a 1099 at the end of the year.

So, why is keeping payroll so important? Well, number one, it keeps you compliant legally. If you did pay everyone through a 1099, you could end up getting in trouble and owing a lot of payroll taxes and penalties from doing it wrong. Also, by paying them correctly, it keeps your employees protected. If you're not running them through payroll, they're not eligible for unemployment, or any of the other plethora of benefits that comes from being paid as an employee when those unfortunate times hit. So, it doesn't just keep you protected; it's important to keep your employees protected, as well.

So, what are the essential components of payroll? Well, first, you've got your employees' information. When you have your employee fill out the W4 on the first day they start, that's where you gather all of their basic information: their name, date of birth, Social Security number, address … all of that essential information.

Next, what do you pay them: their salary or their hourly wage. So, a salary is a fixed amount that you pay them every pay period, and then a wage is what you pay them based on the hours. Overtime pay varies a little bit from state to state, depending on your specific rules. Generally speaking, it's any time you pay someone above 40 hours a week that they work, and, in some states, it's above eight hours in an individual day.

Next is the employees' time. This is a critical one for not just figuring out what you should pay them, but also figuring out how profitable you are in certain areas of your business. Next is deductions. These are any p-income tax amounts that you take out of their paycheck when they fill out the W4 and claim how many exemptions and how much they want to deduct from their paycheck.

Next are benefits, and this, of course, varies from company to company, depending on your actual policies. But, general speaking, it's health insurance and any retirement matching, and some more progressive companies offer other things like paying for a gym membership, or any other little benefits like a life insurance policy or a disability insurance policy.

Then, there are payroll taxes. Essentially, Social Security and Medicare. They are funded through payroll taxes. State unemployment and disability insurance varies from state to state, but those are all payroll taxes. There are employee portions of it and then employer portions of it. The employee portions are withheld from the paycheck, and then you take the employer portion and add it to that, and send it in to the taxing authorities. Payroll withholding is a term that you may hear. It's very similar, as it's kind of interchangeable with deduction, in that the amounts are withheld from the paycheck on behalf of your employee, and then sent to the various authorities.

So, when people think of payroll, they often think of the net pay, which is the amount that actually hits the employee's bank account, and then the gross pay, which is the actual salary. So, someone might make $60,000 a year, which is his or her gross pay. The net pay they might get that actually hits their bank account is $40,000.

So, speaking of that, how do you calculate payroll? When somebody asks how to calculate payroll, what they're really asking is, how do you calculate your employees' net pay? Net pay is calculated by taking an employee's gross pay, then subtracting out those payroll taxes, withholdings, and deductions. That gives you your net pay.

Now, there are a few different ways to process payroll and, ultimately, what you decide on the method that is best for you is going to depend on the size and stage of your business. So, the first method is do-it-yourself. This is, essentially, where we get out the chicken scratch and the calculator, pull up the payroll tax form, calculate the numbers, and then figure out what we think the net check should be, based on the calculations that we come up with ourselves. That's option one.

Option two is to outsource payroll to a different service provider. So, that might be an accounting firm or a different payroll company that specifically focuses on running payroll. You give all your information to them, and they do it for you. Lastly, you use a payroll software to get the basic information that you need, so it's the same types of things that you would send to the outsource payroll provider. But, in today's ever-evolving automated world, software can do that for you. So, basically, you'd take that basic information and plug it into the software, and then it would calculate the net checks, send in the payments and the payroll taxes for you, and also pay your people.

So, those are the three different ways. We covered the difference between a gross check and a net check, as well as the basics of payroll. On the next video, we're going to discuss the best practices on how to make sure you stay compliant, both on your side and what to do as a business owner, and make sure you're keeping your employees protected as well. We'll see you next time.